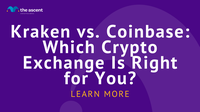 When comparing fees on cryptocurrency exchanges, think about how you plan to use the platform — how you want to deposit money, how often you will trade, and how you might withdraw it.
For example, both Kraken and Coinbase have advanced accounts (Kraken Pro and Coinbase Pro) with lower fees. The sooner you feel able to use the Pro versions, the less you'll pay in crypto trading fees.
Kraken has an instant pay feature designed for crypto beginners, but the fees can be steep. If you buy $200 worth of Bitcoin (BTC) by automatic bank transfer, you pay a standard 1.5% Kraken trading fee plus 0.5% for the transfer. If instead, you buy $200 worth of the popular stablecoin Tether (USDT), you pay a 0.9% Kraken fee plus the same 0.5% transfer fee.
The big issue for Kraken users in the U.S. is that several deposit options — such as paying by credit or debit card — are not available.
Coinbase takes debit card payments and bank transfers, as well as PayPal and Apple Pay deposits. However, the fee structures are not very transparent or easy to understand. Coinbase charges a spread of around 0.5% plus a transaction fee. The transaction fee is either a flat fee or a percentage based on the payment method, whichever is higher.
Let's say you want to buy $200 worth of Bitcoin using a bank transfer. The fee for bank transfers is 1.49% or a flat fee of $2.99 (which is slightly higher). So, you pay the flat fee of $2.99 plus the spread of around 0.5%. The spread gets calculated at the time of the transaction, and you can't see exactly how much it is.
In that example, the two exchanges are much of a muchness price-wise, but if we look at the maker-taker fee models of the pro versions, Kraken comes out slightly ahead.